Nothing is secret about the importance of a positive attitude. In life and most definitely in caregiving. 
For the most part, the summer of 2019 was a stretch of relatively (it's all relative when it comes to caregiving) smooth sailing for Ro and for Steve and for all of us who care for them. But Ro's Alzheimer's and Steve's Lewy Body refuse to let a good thing last, and I recently found myself in the fast lane speeding toward caregiver burnout.
Nothing specific happened. It was just the cumulative caregiving effect catching up with me. It goes dormant for stretches but it always catches us. The need to be always on and emotionally available. Quickly accumulating guilt. Recurring feelings of failure and the associated frustrations. I chalk it all up to the usual emotional suspects of caregiving. 
**Brief aside**
If this were happening a year ago, I wouldn't have recognized where I was headed until I was pulling into Burnout Central. So like Carl Spackler, I had that going for me.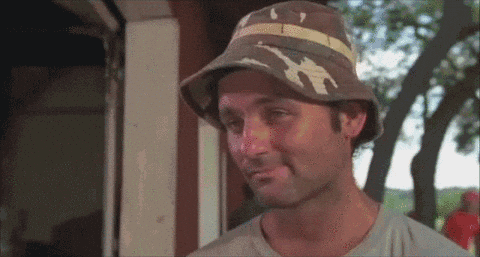 **End Aside**
I was thankful and somewhat proud to have realized where I was headed. Long story short, I got to work on getting myself back to steady caregiver ground. These were the first things I did. 
Self affirmation: Gave myself props for my recognition of what was going on (with me) 

Delegated: Asked others for help where I needed it

Focused on Me: Made a conscious effort to get more sleep and more exercise 
These seem like they should be easy but if you're a caregiver you know they are not. It's not easy to give yourself props for something that doesn't seem like much of an accomplishment. Meanwhile, figuring out what others can help you with is, to me, actually a pain. And getting more sleep and exercise? Difficult when you're not necessarily in control of your schedule. Ro, Steve, our kids, and Maggie the dog all have more say in when Lindsay and sleep and/or exercise than we do. 
The bottom line is that it's incredibly easy to lose yourself when you're so far into the day-to-day weeds of supporting someone you love who is living with a condition from which they recover. Nevertheless, after a week or so I was headed in the right direction.
Feeling better but still not quite right, we decided to spend last week focusing on positivity. I could almost hear Mom with her hardy New England accent in my head: "Choose your attitude, Matthew!" So we chose our attitude. We made last week all about having a positive attitude. 
Positive attitude or bust
No matter what happened throughout the week, we were determined to see the glass as half-full. We figured it would be good to have a goal, regardless of how abstract, and that the experiment would give us something other than the caregiving minutia to think about.  
Low and behold, we were mostly (kind of) successful in our quest for an unbreakable positive attitude. It was a good week. Not without challenges but it was good. 
Ro's assisted living community escalated some behavioral issues to me. My heart sinks every time I see their number on my phone and it's difficult at times to work through those sorts of things from 150 miles away. Steve is being transitioned to hospice which presents an oversized bundle of emotional and logistical concerns and implications. Yet we did our best to see the glass-full every step of the way. 
Like I said, the result was an all-in-all good week. I'm happy for that, I really am. It doesn't change hospice or Mom's pending move to an increased level of care, but staying sane and avoiding feeling like you're on the verge of burnout is a good thing. Still, there was an even better part of our little experiment–what we learned.
We learned…
As the week went on, we couldn't help but notice that when something shi&%y happened, we were stifling our true feelings due to our relentless pursuit of a positive attitude. We remained positive, but at the expense of our real feelings. The result was a stark reminder that sh&%t happens and life isn't a collection of extremes or absolutes.
Neither is Alzheimer's or Lewy Body Dementia or caring for someone living with living with any chronic condition. As a caregiver, you live in an endless sea of gray. From the time your caregiving journey begins until long after it's over, your entire existence is in the gray area. 
We know a positive attitude is important but last week taught us that we need to give ourselves permission to feel without guilt.  We were reminded that it's ok for us to feel all the feelings. Actually, it's a necessity. 
Balance > Positive attitude
Last week reaffirmed our understanding of how important a positive attitude is in caregiving (and life). But we also learned that our attitude (alone) is not the most important thing. Balance is. Feeling all the feelings is. The balance is what makes the positivity so powerful. 
Last week showed us that we underestimated the importance of acknowledging all the feelings as they come and when they come. The good ones, the bad ones, the ugly ones and the gray ones. Until we acknowledge them, we can't process them in a healthy manner. More than that, if we're not letting all of the feelings in then we're not living. We're just existing in the gray area. 
Last week was an unexpected reminder that just existing isn't good enough for us while we're caregivers. We want to live. To do that, we need to keep a positive attitude. And fight to keep balance, too. 
Can you relate?
Have an experience to share with a senior living community or home care agency?
Please consider sharing it in by leaving a review. It's as easy as 1) clicking here 2) searching for your community or agency of interest 3) registering in two steps (no phone number needed and definitely no telemarketing) 4) Leaving your review.
It will take 5 minutes or less and your contribution will help someone else. If you don't see the community or agency you're looking for, please email matt@roandsteve.com and we'll get it added quickly.